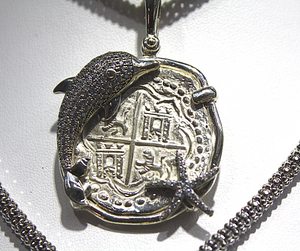 Shipwreck Treasure Zircon Dolphin Jewelry
This pendant is cast from the silver bars recovered from the Atocha shipwreck.

Own a piece of history with this Atocha coin jewelry pendant which is hand crafted & personalized with a zircon studded sterling silver dolphin AND a cute sterling silver starfish

You will not find this piece anywhere else but at Silver and Gold in Key West.
The Nuestra Señora de Atocha was a Spanish galleon ship that sank in a hurricane off the Florida Keys in 1622. At the time the ship wrecked it was transporting a heavy load of copper, silver, gold, tobacco, gems and indigo.
Most of the wreck was famously recovered by treasure hunters Mel Fischer, Finley Ricard and a team of sub-contractors and has since been.
Each piece comes with a Certificate of Authenticity! 

Fun Fact: In 2014, the Nuestra Señora de Atocha was added to the Guinness Book of World Records for being the most valuable shipwreck to ever be recovered, as it was carrying 40 tonnes of gold and silver and 71 pounds of emeralds.
---
We Also Recommend
---